Message from Chairman & President
Message from Chairman & President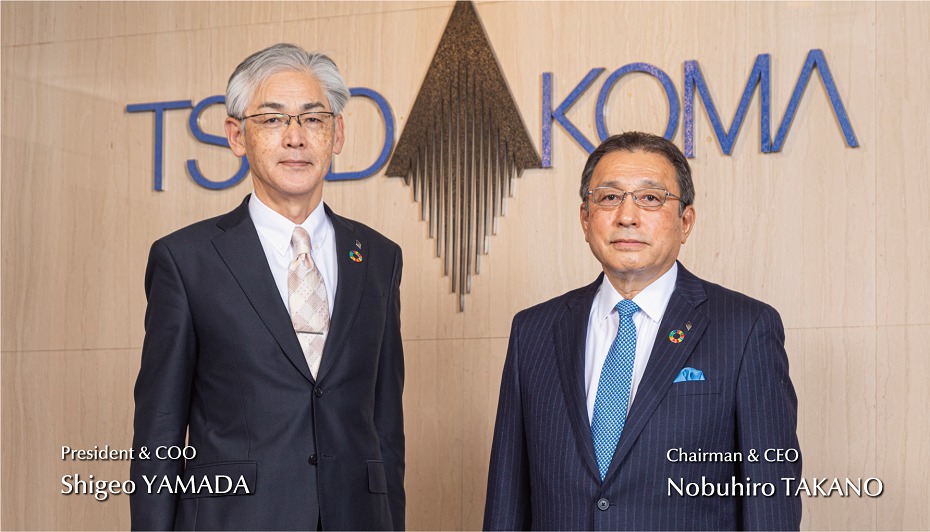 ~A Strong TSUDAKOMA, A Strong World~
Ever since its founding in 1909, TSUDAKOMA has produced cutting-edge technologies and products, as an innovator in the textile machinery and of the machine tool attachment industries.
In 2014, the Japanese Ministry of Economy, Trade and Industry selected TSUDAKOMA as one of the "Global Niche Top Companies Selection 100." (Textile machinery)
Through exporting our ultra-high speed jet looms and sizing machines to more than 60 countries all over the world, we have realized the spread of various new fabrics, such as high-class dress fabric, high function cloth, and industrial materials, and made a contribution to the economic development in emerging markets.
Our machine tool attachment business has also promoted Japanese manufacturing while leading the world,
by producing the NC rotary tables with high accuracy and the machine vises with high rigidity.
In 2008, we expanded into the processing machinery for carbon-fiber fabric, one of the new materials in the 21st century.
In cooperation with various industries including the aerospace and automotive, we are working on manufacturing new products, such as the first automatic lay-up machine in Japan for CFRP Carbon Fiber Reinforced Plastic.
TSUDAKOMA's Company Motto is "Always Aiming for the Best. Always Contributing to the world." To make it a reality, we should remain A Strong TSUDAKOMA will lead the field with continuous development of new technologies.
Best quality and technologies. Accumulated human resources and skills to invent them. Ability to bring a change while adopting the world from a wide point of view. We will further enhance and exhibit them as our advantage. TSUDAKOMA and all society will benefit from our strong efforts. As a global company, we continue to make efforts to contribute to the growth of a sustainable world.
Nobuhiro TAKANO, Chairman & CEO
Shigeo YAMADA, President & COO
Company Motto
Company Motto
Always Aiming for the Best.
Always Contributing to the World.
Contact Us
For catalogs, drawings, and any inquiries, contact us by contact form.