[AIR JET LOOM] ZAX001neo AIR JET LOOM
Products

AIR JET LOOM
ZAX001neo AIR JET LOOM
Outstanding Energy-Savings
World-Leading Ultra-High Speed Performance
Further Developed Robust Frame Structure
Thorough Support for High Quality

-Neo Weave Technology
Towards the New Stage led by the ZAX001neo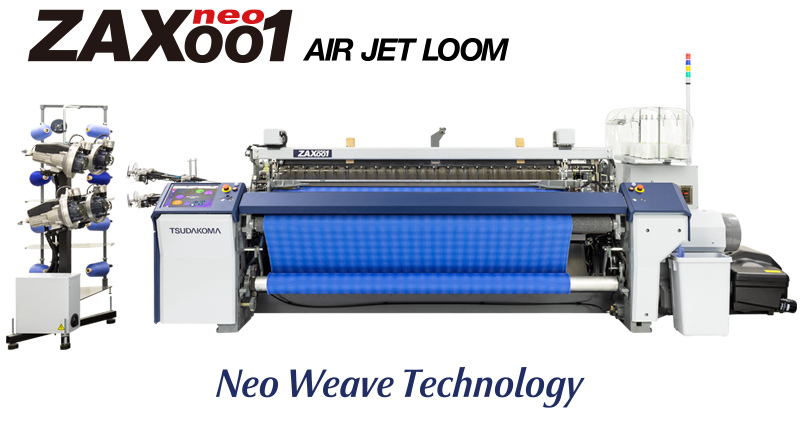 Fruits of weft insertion technology, the outcome of efforts to pursue energy savings and high speed performance.
Nozzles, valves, and control technology, all of which are the basis of the air jet loom, are optimized.
A greatest masterpiece of user-friendliness with special consideration for easier setting operation and adjustment.
Integrated auxiliary main nozzle
Solenoid valve and auxiliary main nozzle body integration creates a pipe-less system. Residual compressed air is reduced and weft feeding force is increased. The integrated auxiliary main nozzle reduces broken or slack picks and weft insertion pressure. It also provides an extensive support for easy-to-break wefts.
FDP-A IV Electronic Free Drum Pooling system
By greatly improving the acceleration performance, a change in storage amount of wefts at startup and during at-will motion for multi colors is minimized, ensuring stable weft insertion. Soft weft insertion for sensitive weft is possible. A contactless yarn breakage sensor detects yarn breakage. It is possible to adjust the pre-winding direction on the FDP according to the twist direction of yarns.

Yarn storage sensor
Weft storage can be monitored and automatically supplied during operation. Stress to the weft due to the resistance when the weft is released from the drum is minimized, so weft insertion is stabilized.
Neo Valve System
Due to pursuit of high performance, an innovative system with advanced air-saving performance is offered.
AJC-S+ Auto Jet Control
Automatic compensation function by time is possible in addition to the conventional weft insertion timing (loom angle) control. It enables air jet control according to the actual weft insertion condition, eliminating wasted air consumption.

Loom frames are unavoidably exposed to vibration due to movement of the heavy components. Because many long components are built widthwise, the loom has a weak structure. To solve these problems, existing looms have been repeatedly reinforced. Now, TSUDAKOMA completely switched the method. We developed a new ideal loom frame. Highly recessed loom components, instead of flat or box-shaped, are the advanced platform. Both high robustness and lightweight moving components are achieved while ensuring reliable power transmission.
Specially designed frame structure
The rib-structured frame with integrated let-off frame and shortened stays produces higher robustness. It contributes to ultra-high speed operation and vibration reduction.
Advanced beating system
By optimizing the link mechanism against the conventional model, expanded dwell angle is attained. Under the same condition of the warp shedding amount, it is possible to ensure a longer weft insertion timing. Defective shedding is reduced, improving the loom operation.
Cam beating
Due to a physical dwell, the time and space for weft insertion are increased. Weft insertion becomes more flexible, allowing greater versatility for wide and high-density fabrics.
New heald frame
Under the supervision of TSUDAKOMA, an advanced heald frame featuring highly robust and lightness is designed for ultra-high speed operation. The advanced heald frame plays a major role in increasing maximum speed of the shedding motion.
*Select depending on the specifications.
Lightweight and well-balanced rocking shaft
Lightweight and optimally balanced reed holders and rocking shafts are used. Driving inertia is reduced and the balance is improved, resulting in lower vibration.
Direct gear drive
The drive motor is directly connected to the gear. Due to stable start-up operation, stop marks are prevented and the belt-less drive motor is maintenance-free.
Contact Us
For catalogs, drawings, and any inquiries, contact us by contact form.