[AIR JET LOOM] ZAX9200i AIR JET LOOM
Products

AIR JET LOOM
ZAX9200i AIR JET LOOM
The "ZAX9200i MASTER" upgrades the high-speed ability of TSUDAKOMA's best-selling air jet loom the "ZAX9100 Professional." The ZAX9200i saves resources, energy, and manpower. It is an advanced air jet loom that is worthy of the name "MASTER." Newly upgraded electric components strongly support the "ZAX9200i MASTER."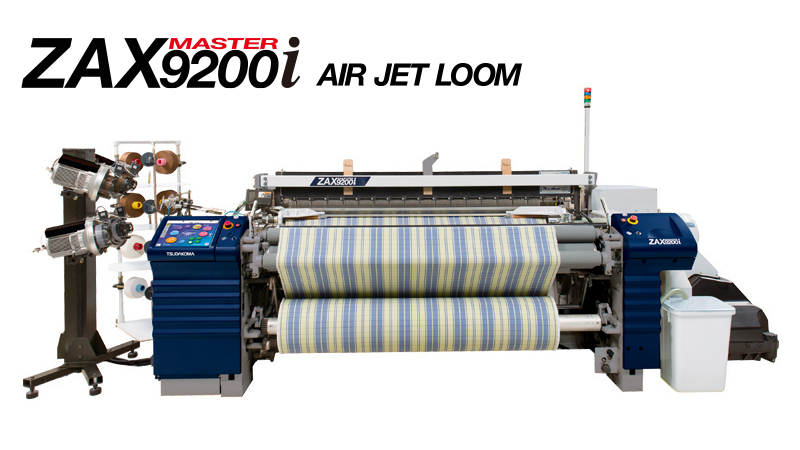 Ultimate weaving support! "Weave Navigation® System-II"
The world's first weaving support system that TSUDAKOMA developed is upgraded to the "Weave Navigation® System-II"
The "Weave Navigation® System-II" employs a 15-inch display - the largest in the weaving machine field. It reduces the hierarchy levels of the menu and the number of button operations is also reduced for user-friendliness.
Multiwindows are supported. They allow real-time adjustments while observing the result.
Due to the optimum weaving conditions, high quality fabrics are produced while saving energy at a high level.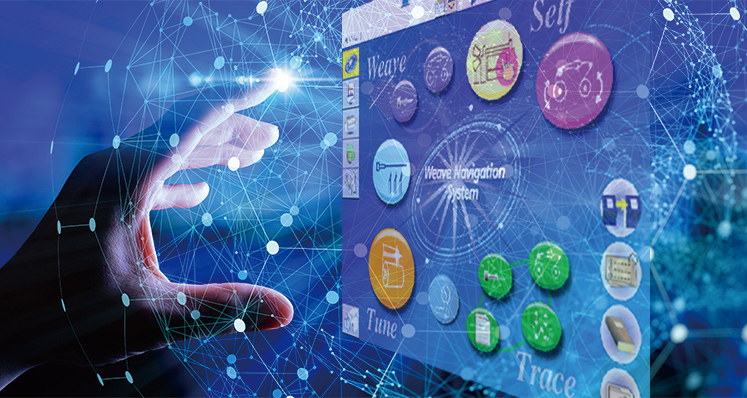 Navi-board
The high-resolution LCD monitor that reproduces 16 million colors provides a maintenance guide on video and allows adjustments based on visual cues.
The 15-inch display reduces the hierarchy levels of the menu and the number of button operations is also reduced for userfriendliness.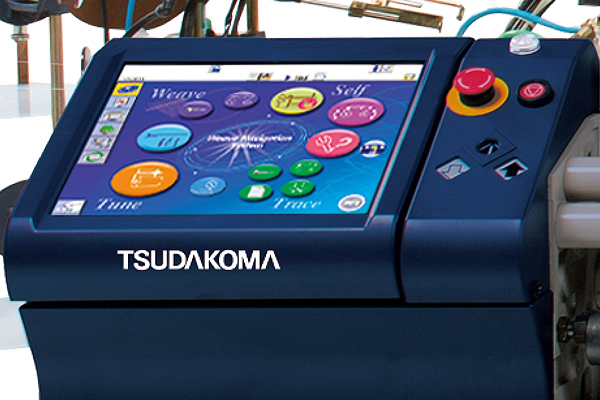 Multi-windows
Simultaneously displaying the setting page and the monitoring page allow realtime adjustments.
You can adjust the weft insertion timing while observing the weft insertion graph, and can set the warp tension while observing the tension changes.
Use of USB thumb drive
Loom data can be saved and transported with a special USB thumb drive.
The amount of data saved is drastically increased. Data management is easy.
Stand-alone display
Even when the LAN environment for the TLM is not provided, the manuals and the parts catalog can be displayed by the stand-alone loom.
Automation
Adjustments for the 1st pick timing are no longer necessary.
The timing of the main nozzle and the hook pin for the 1st pick is automatically controlled in response to the initial rise of the motor when the loom is started.
When the loom RPM changes while using the same weft type, weft insertion adjustments for the low and high speeds are not required either.
Energy saving
Power consumption for control except for the driving motor is reduced by about 20%.
Reliable design
Long-lived parts are used for the control printed board.
Wider versatility
The number of steps of the weaving pattern data is increased to 19,980,000 picks including the repeat function for the dobby loom, and to 1,980,000 picks for the cam/crank shedding loom.
The available number of pick densities is also increased to 32. Therefore, various fabrics can be woven.
Video replay
Procedures for adjustments and maintenance can be checked through the video.
The required works are easily comprehensible.

Contact Us
For catalogs, drawings, and any inquiries, contact us by contact form.